15 August 2012, Comments:
Comments Off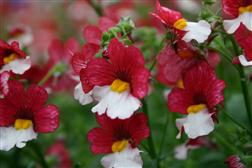 The perfect Perennial, Nemesia 'Cherry on Ice'
At the Sanctuary Point Garden Centre, we have a beautiful selection of Perennials and it's hard to pick a stand out from the crowd because they're all so beautiful, however our Plant of the Month for August would have to be the amazing Nemesia 'Cherry on Ice' .
This plant is a really beautiful addition to any garden, the flowers aren't huge, but there are a lots of them which really gives you an impressive garden display. The Nemesia 'Cherry on Ice' is prefect for the South Coast climate and prefers a sunny, well drained position in the garden.
The Sanctuary Point Garden Centre is a big fan of Perennials. Perennials are group of plants, often quite showy with lots of flowers that will last more than 2 years. Most Perennial plants will last more than 3 years, however this depends on their surroundings and if they're in their preferred planting zones. Perennials, give our gardens the wow factor, they're generally full of flowers and have an amazing array of colours. Most Perennials can be gown in pots or garden beds and are more often than not a small to medium plant, which is great for creating borders in your garden.
The species of Perennials is vast, however they include Nemesia, Lobelia, Iberis and Diascia.
Pick up a Nemesia 'Cherry on Ice'for your garden today at Sanctuary Point Garden Centre